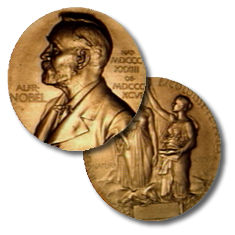 The Nobel Peace people have awarded our President the Nobel Peace Prize for, in their words, "vision of and work for a world without nuclear weapons." The nominations and selection came about in February, just after his inauguration. I am not sure what he did by then, but it must have been good.
Former prize winner Lech Walesa (Anybody remember that guy? He really did earn his prize.) said, "Well, there's hasn't been any contribution to peace yet. He's proposing things, he's initiating things, but he is yet to deliver....".
The President joins former President Jimmy Carter and PLO leader Yasser Arafat in having won the prize for solving all the middle east problems and bringing about peace in our time. Oh, and Al Gore. Hard to mention world peace without bringing up his name. Thanks Al.
I think I too should get the Nobel Peace Prize for some of my visions of peace. Ask me about them sometime.